By fostering an inclusive approach that leverages the relative strengths of all levels of a diverse field of stakeholders, EBAFOSA ensures a wide range of benefits accrues to actors through mutual interactions as follows:
 GOVERNMENTS
Governments are the custodians of development in any country. EBAFOSA provides a platform, a solutions space that brings together a diverse set of solutions providers to development problems. It works with government through its ministries, agencies and personnel to enrich its development policy and mandate in  the food security, climate adaptation, and job creation especially through agro-value change and agri-business. This by making sure it benefits from synergy built  through a decentralized, complementary, harmonized, joint all inclusive approach to solutions development and implementation. Thus, the latest in cutting  edge technologies, strategies and approaches that are available from the private sector, CSOs, NGOs, academia etc. can be applied with the least bureaucracy to  solve development problems.
THE PRIVATE SECTOR
EBAFOSA provides a continental platform for business to business and business to consumer networking and partnership, business to government partnership, business to educational and research institution partnerships along areas of mutual interest- food security,  climate change adaptation, job creation and  employment. EBAFOSA is a platform that brings together many complementary actors across the continent and globe in a mutual relation. This platform brings  continental and world supply and demand markets within national level reach. It provides an opportunity for national level businesses to network with   contemporaries across the continent and the globe. It also gives businesses wider continental and global  visibility, and opportunities to tap into these newer markets through leveraging EBAFOSA's appeal in the continent & the globe and its reach within Africa and the globe through the diverse networks that EBAFOSA   taps. In addition, EBAFOSA facilitates creation of more income opportunities. By focusing on upscaling policy and practice that facilitates optimization of the entire EBA-value chain, from sustainable production practices in agriculture, forestry and other ecosystem dependent sectors, and feeding this to supply    and demand side value chains, opportunities are created along the entire value chain of a given ecosystem product or service. Facilitating the entire value chain holistically through appropriate policy means more opportunities are created for income generation.
EDUCATIONAL, RESEARCH INSTITUTIONS
EBAFOSA provides a platform where continental institutions can build mutual partnerships between  themselves and also across sectors with private sector,  international organizations, NGOs across countries, at continental levels and global level. NGOS, CSOS, CBOS etc EBAFOSA provides these organizations with a  platform through which their mandate can be delivered at a broader scale. It also provides opportunity for technical capacity building and partnerships as interactions are fostered across diverse sectors.
INDIVIDUAL MEMBERS, STUDENTS
Interaction across and within sectors to foster technical capacity building, opportunities to foster  incubation of ideas, employment opportunities etc.
THE AU AND OTHER REGIONAL BODIES, THE UN AND OTHER INTERNATIONAL AND INTERGOVERNMENTAL ORGANIZATIONS
By focusing on leveraging Africa's natural capital and ecosystems to upscale EBA-driven agriculture and  its value chains into policy and implementation across  the continent so as to ensure food security, climate  adaptation, ecosystem enhancement, and job & income creation, EBAFOSA buttresses the achievement of
existing continental and global blue-prints, including the AU's Agenda 2063, AMCEN Cairo declaration, Maputo and Malabo declarations, the CAADP process.
Beyond existing strategies, EBAFOSA also provides a platform for actualizing the SDGs for Africa. EBAFOSA's mandate to leverage Africa's ecosystems and natural capital toward upscaling EBA-driven agriculture and its value chains into policy and implementation to ensure food security, climate adaptation,
ecosystem enhancement, and job & income creation is directly aligned to SDG 2, 8, 13 and 15. EBAFOSA rollout will indirectly contribute toward achievement of the overarching post-2015 development agenda in Africa - which is ensuring sustainable inclusive economic growth.
  Download attachments:
What_is_EBAFOSA_and_its_Benefits_to_Countries_28_August_20151.pdf
Related Items:
Highlights
By fostering an inclusive approach that leverages the relative strengths of all levels of a diverse field of stakeholders, EBAFOSA ensures a wide...
Thursday, 26 May 2011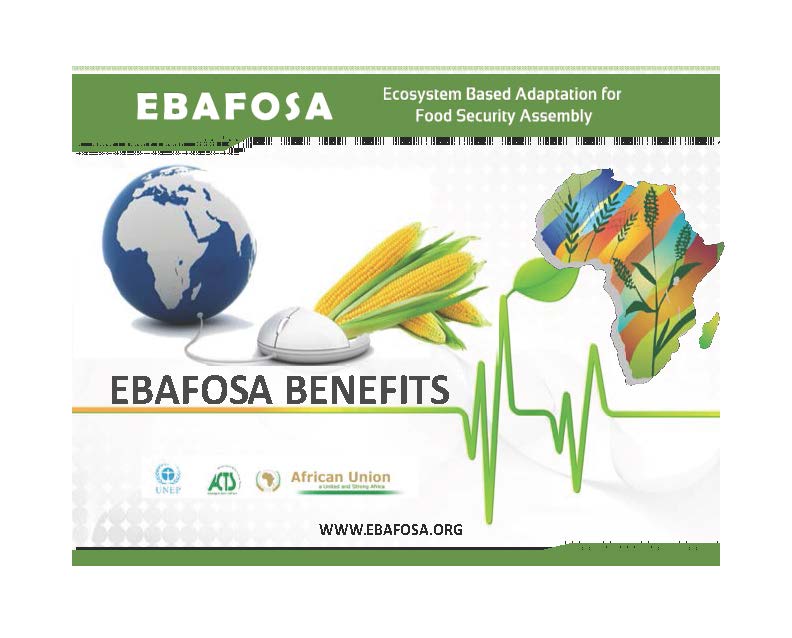 Find link below for EBAFOSA Benefits Powerpoint Presentation
Link >>
...
Sunday, 07 February 2016
CONSTITUTION OF THE ECOSYSTEM-BASED ADAPTATION FOR FOOD SECURITY ASSEMBLY The EBAFOSA mandate is guided by a constitution, rules of procedure and...
Thursday, 26 May 2011