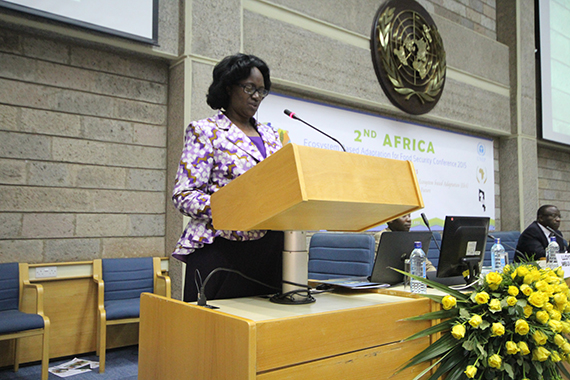 Conference Chair Alice Kaudia, Environment Secretary, Ministry of Environment, Kenya, welcomed participants to the  session, which was moderated by Elias  Ayuk, Director, UN University Institute for Natural Resources in Africa. Lloyd Mbulwe, Zambia Agriculture Research Institute, highlighted food security  challenges in the region and discussed ongoing initiatives to promote traditional crops, such as sorghum, that contribute to multiple benefits, including sustainable land   management, resilience to drought, improved nutrition security, and income generation through improved processing and marketing techniques. Clement  Adebooye, Osun State University, Nigeria, presented the results of a project to boost sustainable  production and utilization of indigenous vegetables in southwestern Nigeria. He outlined the project's contribution, including through: conducting field-based studies; creating direct employment; supporting farmers  groups; promoting sustainable seed production; and establishing linkages with government research institutions and extension services. Bashir Jama, AGRA,  highlighted strategies for the transition to EBA-driven agriculture, emphasizing, inter alia: improving productivity of smallholder farmers while  sustainably  managing land resources; exploring "best bet" technologies; and scaling up sustainable agriculture through private sector engagement. He underscored the importance of exploring the judicious use of fertilizers within a sustainable agriculture framework in order to meet agricultural productivity targets and achieve food security. Christina Kwangwari, ActionAid, shared experiences from a project promoting EBA-driven agriculture and women's rights to sustainable livelihoods in Ghana and   Rwanda, highlighting the project's success in improving food security. She underlined the importance of strengthening market access, policy reforms, value addition  of agricultural products and promoting EBA opportunities throughout the  value chain. Roland Bunch, Groundswell International, stressed that as a result of  eclining yields and an impending food security crisis, a generation of rural children are not getting enough nutrition, and said that intercropping legumes that both  need  people and fertilize soil is a potential long-term solution to the problem, highlighting experiences from a project implemented in 15 countries. In a round  of questions to panelists, participants highlighted, inter alia, the importance of rainwater harvesting, the complementarity of organic and non-organic approaches,   and the role of rural education for youth in promoting understanding of indigenous knowledge systems.
Related Items:
Highlights
By fostering an inclusive approach that leverages the relative strengths of all levels of a diverse field of stakeholders, EBAFOSA ensures a wide...
Thursday, 26 May 2011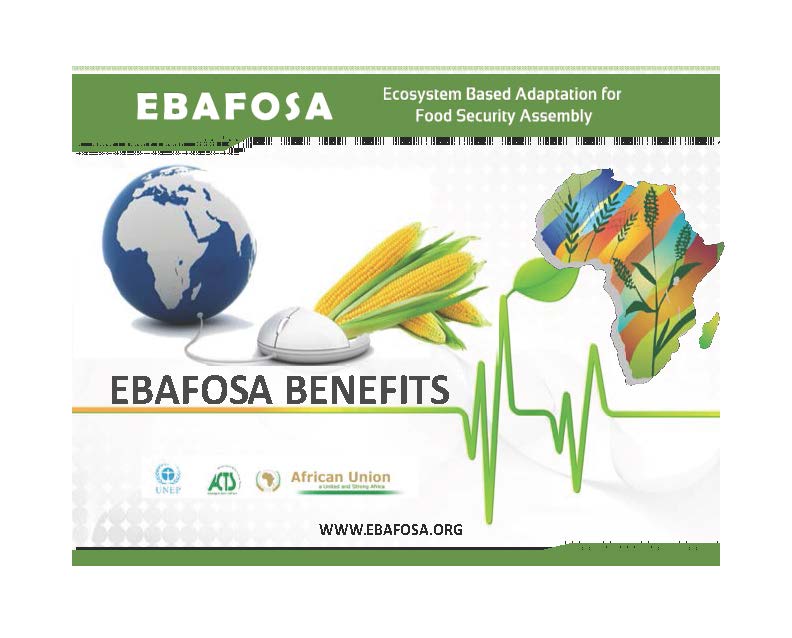 Find link below for EBAFOSA Benefits Powerpoint Presentation
Link >>
...
Sunday, 07 February 2016
CONSTITUTION OF THE ECOSYSTEM-BASED ADAPTATION FOR FOOD SECURITY ASSEMBLY The EBAFOSA mandate is guided by a constitution, rules of procedure and...
Thursday, 26 May 2011