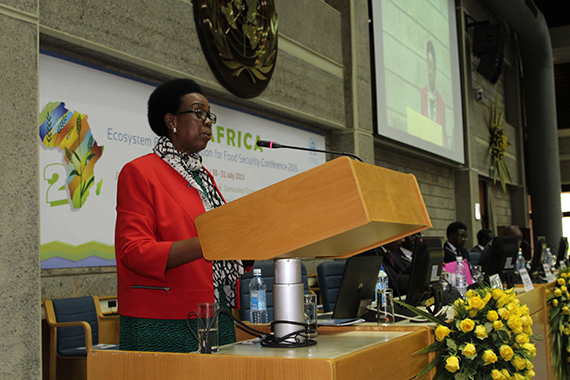 Rhoda Peace Tumusiime, Commissioner for Rural Economy and Agriculture, African Union Commission (AUC), noted the EBA approach offers a framework for  achieving the 2014 Malabo Declaration on Agriculture and Post Harvest Losses, which was adopted by Heads of State at the conclusion of the 2014 Year of Food Security and Agriculture. Describing the declaration as a commitment "at the highest level" to end hunger by 2025, she called on all delegates to "seize this opportunity to put our continent's food systems on track." Agnes Kalibata, President, Alliance for a Green Revolution in Africa (AGRA), underlined the role of  smallholder farmers in driving agricultural transformation in support of food security, and called for enhanced support to such farmers in dealing with climate change   through, inter alia, EBA, access to strengthened farmer organizations and scaled up public-private partnerships (PPPs). Patrick Kormawa, FAO Sub-Regional  Coordinator for Eastern Africa and Representative to the AU and the UN Economic Commission for Africa (ECA), outlined central challenges to  achieving food security in Africa, including waste and lack of access to food, competition with other landbased  activities, low tenure security, water scarcity, rising   temperatures and erratic rainfall. He called for a transformation of agricultural systems to make them more resilient to climate change, including through approaches,  uch as climate-smart agriculture, sustainable land management and payments for ecosystem services (PES). Mounkaila Goumandakoye, Regional  Director, UNEP/ROA: stressed the importance of women in driving change for food security; emphasized EBA and climate-resilient agriculture as key strategies in line  with the proposed SDGs; underlined the importance of AU leadership for EBA; and welcomed a proposed assembly on EBA for food security in Africa.
Related Items:
Highlights
By fostering an inclusive approach that leverages the relative strengths of all levels of a diverse field of stakeholders, EBAFOSA ensures a wide...
Thursday, 26 May 2011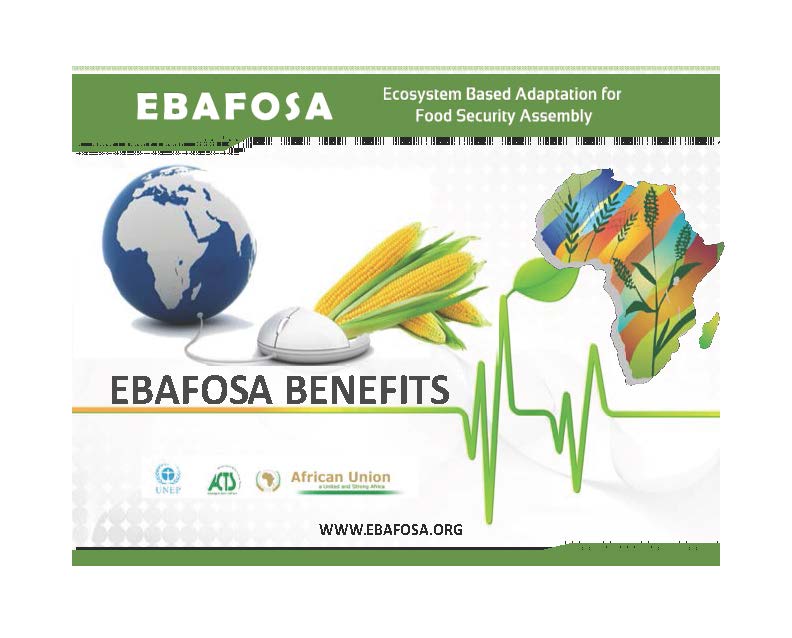 Find link below for EBAFOSA Benefits Powerpoint Presentation
Link >>
...
Sunday, 07 February 2016
CONSTITUTION OF THE ECOSYSTEM-BASED ADAPTATION FOR FOOD SECURITY ASSEMBLY The EBAFOSA mandate is guided by a constitution, rules of procedure and...
Thursday, 26 May 2011