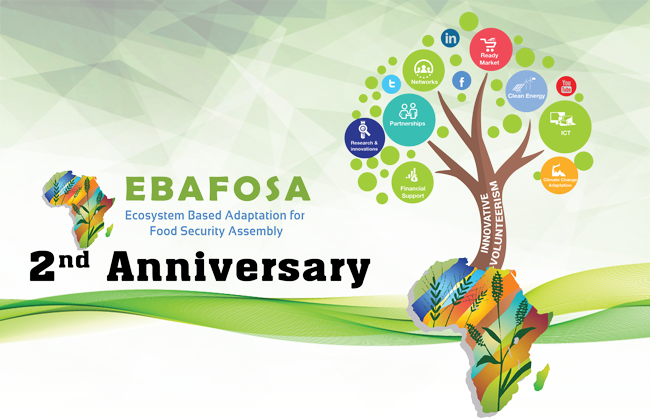 Today, EBAFOSA commemorates 2 years since its formal establishment. Over this period, your hard & smart efforts applying Innovative Volunteerism to operationalize the EBAFOSA pillars shows the power of Innovative Volunteerism. It shows Innovative Volunteerism is the solution to maximize productivity of clean energy & EBA-driven agriculture, Africa's catalytic sectors for socioeconomic & climate benefits.   

From the coast-lines of West Africa, to the savannahs of southern Africa, to the rainforest of central Africa, to the highlands of East Africa and to the SIDS,  the Paradgm of Innovative Volunterism through the  EBAFOSA Policy and implementation framework is visible to all. 

For example,  just to name a few , under amalgamation, EBAFOSA's foundational pillar which implies that clean energy expansion be tagged directly to powering value addition of environmentally sustainably produced agro-products (rather than undertaking developments in these two sectors in silos), in Cameroon's Jakiri municipality, EBAFOSA is catalyzing partnerships at policy & ground level towards linking off-grid small-hydro directly to power cassava and Irish potato processing into varied product lines and linking these to markets & supply chains using ICT mobile apps. This is not only offsetting carbon in energy generation and building ecosystems resilience by incentivizing use of EBA approaches, but creating income opportunities along the entire agro-value chain & ancillary chains of clean energy & ICT. A total of 10 youth groups engaging in ICT, clean energy & marketing have been engaged creating green jobs for approximately 100 young people. Over 500 women now have access to value addition services and as a result have cut their PHLs to enhance their income stability & the community food security. 

On ICT as a driver of efficient linkages along the EBAFOSA chain pillar, the EBAFOSA driven ICT app called EdenSys developed by Kenya EBAFOSA is enabling farmers to use their mobile phones to access decsion making information & services along the EBAFOSA chain - including advisory services, information on inputs including clean energy, access markets where they can price and sell their products among other key actions. 

Going forward, to enhance financial inclusion, a dedicated financing service to finance products & services along the entire EBAFOSA chain called M-eBAFOSA is being developed  to be a one-stop-shop financing module, a door-way that links end-users/clients interested in financing along the EBAFOSA chain, to the relevant product & service providers along the entire EBAFOSA chain. Be it advisory services on EBA/clean energy; clean energy technology, EBAFOSA compliance standards etc. - and an array of financial service providers to effect various levels of payment. 

Significant progress has also been achieved in the other pillars of innovative financing, policy harmonization, and standardization across 25 countries in Africa.   

The message is simple - that many hands make for light work. That a single bracelet does not jingle. It is a call for all to converge around the model of Innovative Volunteerism & volunteer our professional skills, our talents, our professional, organizational & personal networks, our ongoing initiatives - and build mutual business partnerships with complementary actors to operationalize these EBAFOSA pillars towards maximizing productivity of clean energy & nature based, EBA driven agriculture. The continents catalytic sectors that will accelerate socioeconomic transformation sustainably. 

Africa counts on you! 
Related Items:
Highlights
By fostering an inclusive approach that leverages the relative strengths of all levels of a diverse field of stakeholders, EBAFOSA ensures a wide...
Thursday, 26 May 2011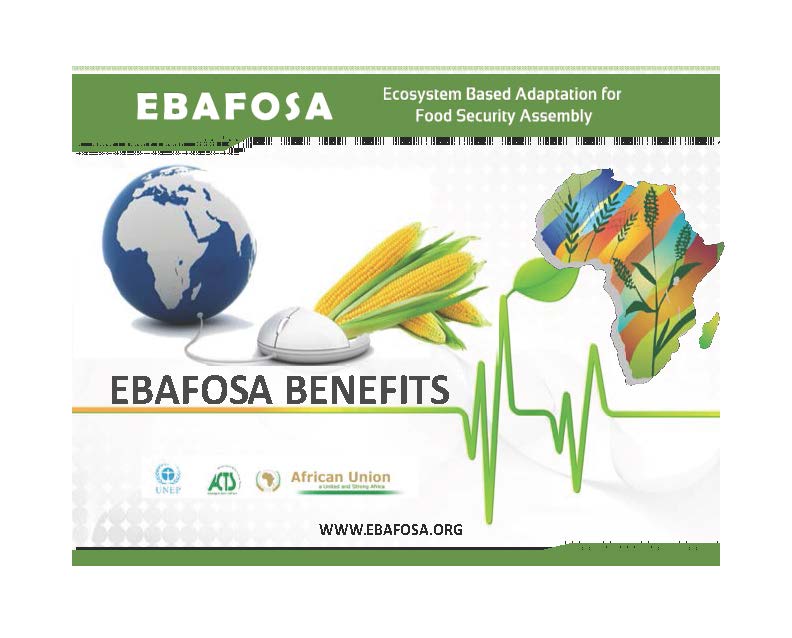 Find link below for EBAFOSA Benefits Powerpoint Presentation
Link >>
...
Sunday, 07 February 2016
CONSTITUTION OF THE ECOSYSTEM-BASED ADAPTATION FOR FOOD SECURITY ASSEMBLY The EBAFOSA mandate is guided by a constitution, rules of procedure and...
Thursday, 26 May 2011